Monica's Books
> Gabito
Butterflies on Carmen Street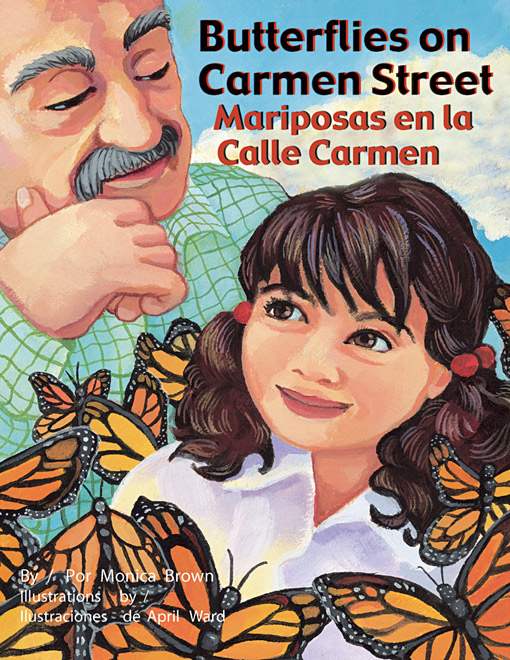 Illustrated by April Ward
ISBN: 978-1558854840
Piñata Books
Purchase this book through:
Indiebound.org
BarnesAndNoble.com
Amazon.com
Description:
"Today is Butterfly Day!" Julianita excitedly tells her grandfather as they make their way down Carmen Street to school one morning. Today is the day Julianita and her friends have been waiting for--they're going to learn about monarch butterflies. But what's even more thrilling is they're each going to receive their very own caterpillar to raise! When Julianita gets hers, she names him Tiger because of his striking yellow and black stripes.
Ms. Rodríguez teaches her students all about the monarch. But Julianita already knows that they fly south thousands of miles every winter because her grandfather remembers seeing the beautiful monarchs in his village in the highlands of Mexico. As the children feed and care for their caterpillars, they anxiously anticipate the transformation from caterpillar to chrysalis to butterfly.
When Tiger finally emerges from his chrysalis, Julianita doesn't want to let him go. She worries that he will get lost on his way to Mexico. "Tiger knows the way to Mexico because it's in his heart," her Abuelito reassures her. She feels sad to see Tiger fly away, but Julianita knows that someday, she will follow him to her grandfather's magical Mexico.
Paired with April Ward's charming illustrations that depict Julianita's neighborhood--her home on Carmen Street, the bench where Abuelito rests in Palo Verde Park, her parents' store that sells everything in the whole wide world--this book by award-winning author Monica Brown is sure to entertain and educate kids ages 3-9. This is a perfect choice for children learning about insects and the forces of nature.
Reviews and Awards:
A Texas Star Book Award Finalist