Monica's Books
> Clara and the Curandera/Clara y la curandera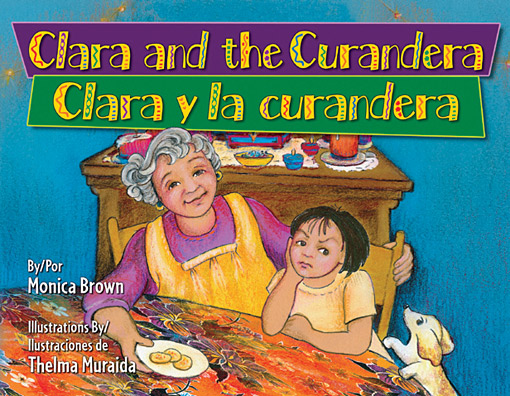 Illustrated by Thelma Muraida
ISBN: 978-1558857001
Piñata Books
Purchase this book through:
Indiebound.org
BarnesAndNoble.com
Amazon.com
Description:
A young girl learns an important lesson about sharing and helping others in this engaging bilingual picture book for children
"Once there was a little girl named Clara, who was grumpy." She was grumpy about having to take out the trash, having to share her toys with her seven brothers and sisters, and having to read one book a week for school.
And Mami is tired of Clara's grumpy face, so she sends her daughter to the curandera—or healer—to ask for help. The curandera gives Clara a list of things to do in the coming week: take out her own trash and the neighbors' as well; give all of her favorite toys to her brothers and sisters; and read five books instead of one!
It's a difficult, busy week for Clara. But, her neighbors are grateful for her help, and give her hugs. Her siblings are so happy that they are extra nice to her and invite her to play with them. She has fun jumping rope, playing checkers and soccer. Her mother takes her to the library to check out books and she reads lots of interesting things. When the week is over, Clara realizes that she has not had time to feel grumpy. Could it be that helping others makes her feel … happy?
In this winning bilingual picture book written by award-winning author Monica Brown and vividly illustrated by Thelma Muraida, children ages 4 – 8 will cheer for Clara as she learns to focus on others rather than herself.
Reviews and Awards: