Monica's Books
> Gabito
My Name Is Gabito: The Life of Gabriel García Márquez/Me llamo Gabito: la vida de Gabriel García Márquez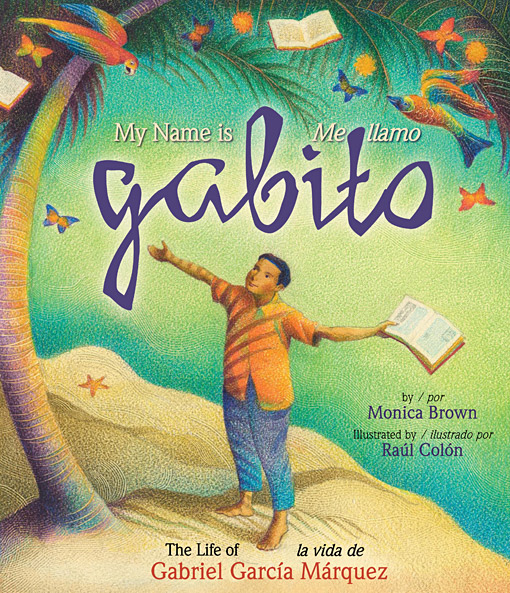 ISBN: 978-0873589086
Purchase this book through:
Indiebound.org
BarnesAndNoble.com
Amazon.com
Description:
Can you imagine a shipwrecked sailor living on air and seaweed for eight days? Can you imagine a trail of yellow butterflies fluttering their wings to songs of love? Once, there was a little boy named Gabito who could. Gabriel Garcia Marquez is perhaps one of the most brilliant writers of our time. He is a tremendous figure, enormously talented, and unabashedly admired. This is his story, lovingly told, for children to enjoy. Using the imagery from his novels, Monica Brown traces the novelist's life in this creative nonfiction picture book from his childhood in Colombia to today. This is an inspiring story about an inspiring life, full of imagination and beauty.
Reviews and Awards:
Puré Belpré
Honor Book
Amíricas Award Commended Title
Críticas "Best Children's Book of the Year"
Latino Book Award Best Children's Picture Book - English -2nd Place
Starred Review in School Library Journal
"This luminous picture book describes the Colombian author's childhood and influences. Brown does a wonderful job of articulating García Márquez's complex literary style (called magical realism) in a way youngsters can grasp. Even better, she shows how his imagination was nurtured and encouraged from a very early age by the things around him."
Starred Review in Críticas
"In the tradition of her previous biographical accounts, My Name is Celia and My Name is Gabriela, Brown dazzles readers in this telling of Gabriel García Márquez's magical childhood. A perfect balance of art and language."
A Junior Library Guild Selection
Can you imagine a man with enormous wings falling from the sky? / ¿Te imaginas a un hombre con enormes alas cayendo del cielo? / Can you imagine the most beautiful green-haired woman in the world? / ¿Te imaginas a la mujer cabellos verdes más hermosa del mundo?" Gabito, a boy from Colombia, didn't just imagine these things; when he grew up, he brought them to life--in his books. Gabito became Gabriel García Márquez, one of the world's greatest writers. This is the story of his childhood--and of the everyday magic that inspired his amazing tales. Bilingual text. Full-color illustrations. A 2008 Pura Belpré Honor Book.