Monica's Books
> Gabriela
My Name Is Gabriela: The Life of Gabriela Mistral/Me llamo Gabriela: la vida de Gabriela Mistral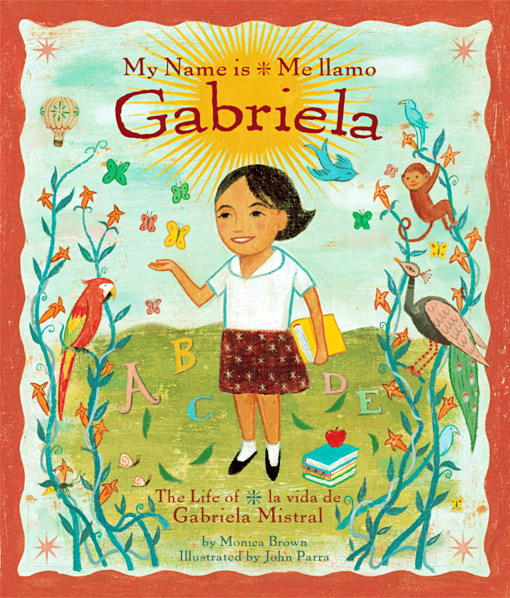 ISBN: 978-0873588591

Tools for Teachers
Purchase this book through:
Indiebound.org
BarnesAndNoble.com
Amazon.com
Description:
Gabriela Mistral loved words and sounds and stories. Born in Chile, she would grow to become the first Nobel Prize-winning Latina woman in the world. As a poet and a teacher, she inspired children across many countries to let their voices be heard. This beautifully crafted story, where words literally come to life, is told with the rhythm and melody of a poem. The second in Luna Rising's bilingual storybook biography series. My Name is Gabriela/Me llamo Gabriela is beautiful tribute to a woman who taught us the power of words and the importance of following our dreams. The story of Gabriela Mistral will continue to inspire children everywhere.
Reviews and Awards:
Starred Review in February 2006 School Library Journal
"K-Gr 2 - This lyrical homage to the Chilean Nobel Prize winner is a joy to read. Written in the first person, the simple text follows the life of the poet from her earliest days (in which, as a girl, she chooses her own name and teaches herself to read) to her internationally renowned career in literature. Brown and the unnamed translator have created a poignantly poetic text that reads equally well in English and in Spanish. It depicts, above all else, the poet's lifelong love affair with words and stories. Parra's naive-style illustrations, which appear to be painted on wood, go well beyond complementing the text. They offer a view into a softly colored world of people, places, and creatures, real or imagined, that were described in Mistral's work. An exquisite addition for most collections".
From Críticas Review
Gr 1-5 "After winning the Américas Award for her picture book biography of the queen of salsa, My Name is Celia/Me llamo Celia, Brown presents a beautiful bilingual biography of Chilean poet Gabriela Mistral. In 1945, Mistral became the first Latin American woman to receive the Nobel Prize for literature. This book honors the poet by describing her life as a teacher and writer in lovely imagery and poetic prose. Readers will find out about Mistral's coming of age and about her travels throughout the world sharing her stories and poems. Brown writes in first person and uses an informal tone so that readers get the impression that Mistral is speaking directly to them. Both the English and Spanish texts are excellent and easily understood. Parra's illustrations are eye-catching, especially the one that depicts Mistral's visit to Mexico. The book ends with a short biography. Recommended for public and elementary school libraries."

- Veronica Covington, Univ. of Texas, Austin
A Junior Library Guild Selection
"My name is Gabriela Mistral. It is a name I chose myself because I liked the sound of it. Me llamo Gabriela Mistral. Este nombre lo elegi yo misma porque me gusta como suena." Bilingual text and full-color pictures tell the sotry of how a little girl from Chile grew up to become the first Latin-American writer to win the Nobel Prize in Literature.