Monica's Books
> Marisol McDonald
Marisol McDonald Doesn't Match/Marisol McDonald no combina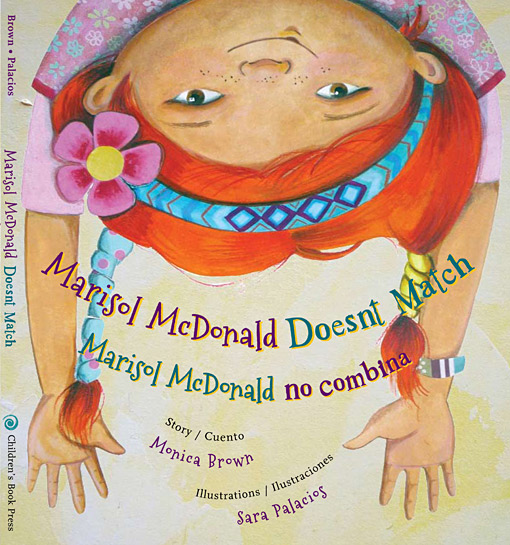 ISBN: 978-0892392353
Children's Book Press

Activity Kit
Purchase this book through:
Indiebound.org
BarnesAndNoble.com
Amazon.com
Description:
My name is Marisol McDonald, and I don't match. At least, that's what everyone tells me.
Marisol McDonald has flaming red hair and nut-brown skin. Polka dots and stripes are her favorite combination. She prefers peanut butter and jelly burritos in her lunch box. And don't even think of asking her to choose one or the other activity at recess–she'll just be a soccer playing pirate princess, thank you very much. To Marisol McDonald, these seemingly mismatched things make perfect sense together.
Unfortunately, they don't always make sense to everyone else. Other people wrinkle their nose in confusion at Marisol–can't she just be one or the other? Try as she might, in a world where everyone tries to put this biracial, Peruvian-Scottish-American girl into a box, Marisol McDonald doesn't match. And that's just fine with her.
A mestiza Peruvian American of European, Jewish, and Amerindian heritage, renowned author Monica Brown wrote this lively story to bring her own experience of being mismatched to life. Her buoyant prose is perfectly matched by Sara Palacios' engaging acrylic illustrations.
Reviews and Awards:
From Kirkus Starred Review
A little girl celebrates her multiracial background and pride in her individuality through a creative and non-conformist attitude.
Marisol McDonald loves her fire-red hair and her brown, freckled skin, feels artistic pleasure in pairing polka-dotted shirts with striped pants and enjoys eating PB&J burritos. Misunderstood by her peers, she is continually teased for not ever matching until one day, confidence diminished, Marisol decides to conform and arrives at school in the same-colored clothes, chooses pirates over soccer rather than playing both simultaneously and eats a peanut butter/jelly sandwich on mushy bread. Bored and unhappy, Marisol is delighted when her teacher gives her a note that boosts her self-esteem with this very positive message: "the Marisol McDonald that I know is a creative, unique, bilingual, Peruvian-Scottish-American, soccer-playing artist and simply marvelous!" Double-page illustrations in assorted media match Marisol's eclectic style and include everything from childlike crayon-and-pencil drawings to more sophisticated cartoon art that combines paint and newsprint collage. The bilingual, first-person story works well in both English and Spanish despite, as explained in an editor's note, the difficulty of finding the most appropriate Spanish term for the title's English phrase.
Marisol's varied, distinctive lifestyle and multiracial family affirms our increasingly blended society and clearly celebrates independent thinking. Brava! (author's note) (Picture book. 5-8)
2012 International Latino Book Award
Pura Belpré Honor, 2012
2012 ALSC Notable Book
Junior Library Guild Selection, Fall 2011