Monica's Books
> Maya's Blanket/La Manta de Maya
Maya's Blanket/La Manta de Maya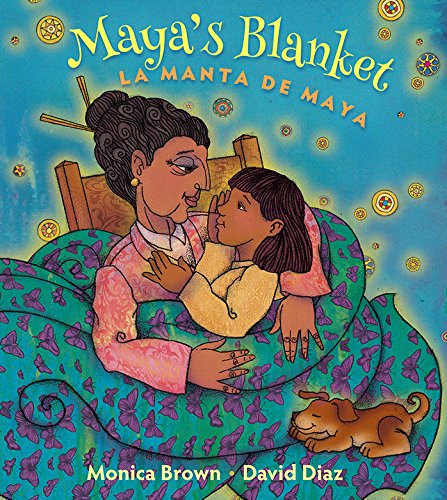 Illustrated by David Diaz
ISBN: 978-0892392353
Children's Book Press/Lee and Low Books
Purchase this book through:
Indiebound.org
BarnesAndNoble.com
Amazon.com
Description:
"Following the narrative styles of a traditional Yiddish folk song, Maya's Blanket/La manta de Maya tells the story of a child's most beloved possession: her blue and green handmade blanket with purple butterfly stitches. Maya's grandmother made it to protect her from bad dreams. Yet as time passes and the blanket becomes worn and frayed, it is remade into a dress, a skirt, a shawl, and more. . . . The story repeatedly reminds readers of the creative transformations that Maya and her grandmother employ to turn the beloved blanket into another useful accessory. This book is a great storytime addition for school-aged children due to its sincere and simple writing that translates well in both Spanish and English, the representation of culturally diverse characters, and the underlying message of resourcefulness, imagination, and appreciation for family traditions. Readers will also be entranced by the eye-catching illustrations of Maya's ordinary-to-extraordinary life. Created with mixed media, the graphics are illuminating with rich color and texture. Thanks to the depth of the images and the thoughtful text, readers will thoroughly enjoy wondering what Maya's blanket will be next. VERDICT A Latino-influenced and Yiddish-inspired tale that is recommended for Spanish readers and librarians in diverse communities."

-Jessica Espejel, Brooklyn Public Library.
Reviews and Awards:
From NYtimes Book review
The traditional Yiddish folk tale of the coat that is remade, over the years, into smaller and smaller garments, becomes an ideal bilingual story in the hands of Brown, who found inspiration in her Latino and Jewish heritage. Maya's special blue and green blanket has purple butterflies sewn by her own Abuelita when Maya was a baby. When it gets frayed around the edges, Abuelita helps her make it into a dress, and then later into a skirt, a scarf, and all the way to a bookmark when Maya is a bigger girl. Eventually she loses the bookmark, but she decides to write a book about the path her old blanket took. Brown ends with a hint of magic, as we see Maya reading the very book in our hands to her own daughter, who sleeps under a blanket that looks just like her mother's old butterfly-strewn one. The English and Spanish are side by side, and the English text uses the Spanish words for the garments that Maya and Abuelita make (such as falda and cinta). They are repeated again and again in Spanish as the story moves forward, a feature of the Yiddish tale that makes a helpful trick for little English speakers just learning Spanish. Diaz's jewel-toned mixed-media illustrations reward close attention, with clever details and a rich folkloric feel, all overlaid with a dreamy patina that makes Maya's world seem both grounded in reality and quietly magical.
Starred review from School Library Journal