Monica's Books
> Pelé King of Soccer
Pelé King of Soccer/El rey del fútbol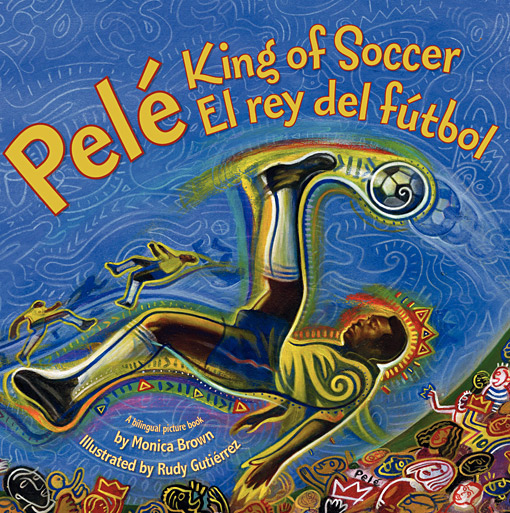 ISBN: 978-0061227813
HarperCollins
Watch the book trailer in
English
and
Spanish
.

Curriculum Guide
Check out the author
as a
young soccer player
!
Purchase this book through:
Indiebound.org
BarnesAndNoble.com
Amazon.com
Description:
Do you know how a poor boy from Brazil who loved fútbol more than anything else became the biggest soccer star the world has ever known? Turn the pages of this book to read the true life story of Pelé, King of Soccer, the first man in the history of the sport to score a thousand goals and become a living legend. Rudy Gutiérrez's dynamic illustrations make award-winning author Monica Brown's story of this remarkable sports hero truly come alive!
¿Sabes cómo un niño brasileño pobre que amaba el fútbol más que nada en el mundo se convirtió en la estrella más importante del deporte? Lee este relato y entérate de la historia de Pelé, El rey del fútbol; el primer hombre en la historia del deporte capaz de marcar mil goles y convertirse en una leyenda viva. Las dinámicas ilustraciones de Rudy Gutiérrez destacan vívidamente los momentos recreados por la escritora premiada Mónica Brown en este extraordinario libro.
Reviews and Awards:
From Kirkus Starred Review
This beautifully designed story of soccer's best athlete begins in the midst of a game with the star about to score. "Pelé! Pelé! O Rei! Pelé! The King!" shouts the roaring crowd. Brown's exuberant introduction transitions to a more sedate narrative that depicts the poor but hopeful upbringing of a boy in a small Brazilian town, playing soccer with nothing but a grapefruit or a newspaper-filled sock. When ten-year-old Pelé sees his father's disappointment after Brazil's World Cup loss, his promise to win one for his dad foreshadows his hard work and escalating talent. Gutiérrez's alluring multi-style gouache paintings swoop and swirl with energy and color. An abstract Pelé in a sweeping, action-filled kick appears against more realistic portraits of a boy and his father, all superimposed over backgrounds and borders that reflect indigenous patterns. The stunning images place Pelé's achievements within the context of his native country. Told in a dual English/Spanish text, this inspiring blend of art and story scores a winning goal. (Picture book/biography. 5-8)
From Críticas Review
Ann Welton, Grant Center for the Expressive Arts, Tacoma, WA -- Críticas, 12/15/2008
K-Gr 4 "-Nowadays, when someone says "Soccer superstar," the person most likely to come to mind is David Beckham. Forty years ago, however, the Brazilian player Pelé put the sport on the map internationally with his energy, amazing footwork, and engaging personality. This tour-de-force picture book from the award-winning author of My Name is Celia and My Name is Gabito (Luna Rising, both) presents the life of this remarkable man and covers in crisp, literate Spanish and English, Pelé's boyhood playing street soccer with his friends, his recruitment to an elite Brazilian team, and his role in Brazil's first World Cup victory. The artwork, in earth tones, green, and electric blue, is arresting and kinetic, full of zip and child appeal. This is a surefire winner for soccer-obsessed children, but will grab others as well for the inspiring content of the story and exciting pictures. An excellent choice for bookstores, this is an essential purchase for libraries." [Read Críticas' Q&A with Monica Brown.-Ed.]