Monica's Books
> Tito Puente
Tito Puente, Mambo King/Tito Puente, Rey del Mambo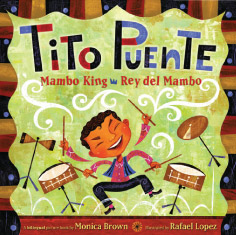 ISBN: 978-0061227837
HarperCollins
Purchase this book through:
Indiebound.org
BarnesAndNoble.com
Amazon.com
Description:


Meet Tito Puente—the King of Mambo.

Tum Tica!

From musical prodigy on the streets of Harlem to five-time Grammy Award winner, Tito's life was full of rhythm. Drums and claves, saxophones and tambourines were all part of the fun.

Tac Tic!

Monica Brown and Rafael López, the award-winning creators of the Pura Belpré Honor Book my name is celia/me llamo celia, team up once again for another spectacular collaboration in this upbeat tribute to a musical legend.

Tum Tic!

Tom Tom!

Conoce a Tito Puente, el Rey del Mambo.

¡Tum Tica!

De prodigio musical en las calles de Harlem a ganador de cinco premios Grammy, la vida de Tito fue muy rítmica. Tambores y claves, saxófonos y panderetas siempre formaron parte de la diversión.

¡Tac Tic!

Monica Brown y Rafael López, los creadores del libro my name is celia/me llamo celia, el cual fue galardonado con el Honor Pura Belpré, se reúnen una vez más para crear otra colaboración espectacular en este alegre homenaje a una leyenda musical.

¡Tum Tic!

¡Tom Tom!